Edge Hoboken BJJ Instructor Sergio de Bari Takes Home Another Pro MMA Win
Posted on May 23, 2017 in Blog, Press
By Pari Aryafar
Edge School of Wrestling, Hoboken, NJ
Edge Hoboken Brazilian JiuJitsu instructor Sergio de Bari took home a big win on May 13th for Dead Serious MMA. The fighter used his BJJ skills to submit a surly opponent that nearly knocked him out in the first ten seconds of round one. As he fell to the ground after a powerful spinning backfist, de Bari had to be calculated in his next move. His opponent rushed in with a barrage of punches and Sergio had to think fast. The black belt under Silver Fox BJJ used his grappling skills to survive the first round and completely turn the tables in the second. Sergio beat his adversary with a tight rear-naked choke, improving his professional record to 3-1. Triumphant and excited, the instructor is only looking forward to taking what he learned from his bout to benefit his students.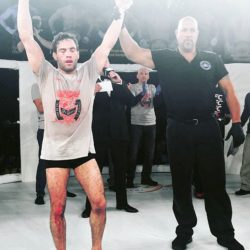 de Bari says, "At the end of the day, I want to take what I go through and use it to teach my students. I want them to learn from my mistakes so that they can get better, just in the same way that I improve."
Sergio's journey in mixed martial arts began the same way it does for many of the fighters that come through the Edge School of Wrestling, Hoboken–with a love of wrestling. He began training as a freshman in high school, chosen for his smaller size and tenacity to compete.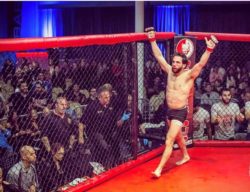 He reflects, "I never wrestled before and I didn't know much about it. I gave it a shot even though I didn't know if I was going to like it. As it turns out, I really did. I loved it from my first practice. It was unlike anything I had ever done before, but I put in a lot of effort to be the best I could. My parents wouldn't put me in wrestling camps, so I had to do as much work as I was able to on my own. I would leave practice and go train by myself at the Rec to get better. I just like competing. I'm a competitive person and it was all I focused on."
His love for the sport followed him long after he graduated. While Sergio was still interested in wrestling, he didn't have very many opportunities to train or compete–until a life-changing conversation with a friend who recommended he try grappling.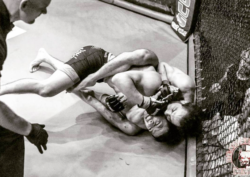 Sergio found himself at a NAGA tournament and out-wrestled many of the competitors he went against. Hooked and more interested than ever in fighting, he knew he had to find a place to train if he was going to take this seriously. That led him to Silver Fox BJJ and within the extraordinary time of six years, de Bari received his black belt.
Now a professional MMA fighter, he trains at a variety of places including North Jersey Muay Thai. Sergio utilizes various disciplines in his technique, such as Tae Kwon Do and Muay Thai. A friend of coach Jeffrey Marsh, he found himself a part of the ever-growing Brazilian JiuJitsu program at Edge. Sergio has been teaching Fundamental BJJ on Wednesdays at 6:30 pm for the last several months and thoroughly enjoys working with the students and staff.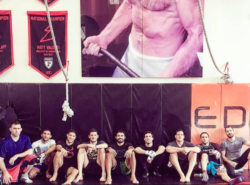 "Dave Esposito and Jeffrey Marsh are two of the greatest guys I know," says de Bari. "They really care and look after their students, and I am happy to be a part of the program. There are so many people who help to make it happen, but I really have to give credit to instructor Marc Berman for helping us all develop the BJJ program into what it is today. I want to give the students the fundamental tools to build themselves up and learn how to actually train, without feeling like they have to just survive. Ultimately, we are all working together to help make the students the best and most confident versions of themselves."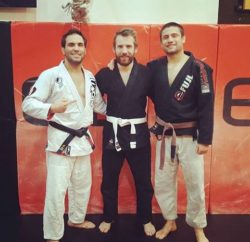 For instructor de Bari, growing the community at Edge hits close to home for him. His brother Cosmo has been training at Edge and Sergio couldn't be happier.
"When I first started wrestling and then pursued the MMA career, my brother was always the one who supported me the most. Seeing what he has gained from his own martial arts journey puts mine in perspective, and the benefits he has gotten make it all worth it."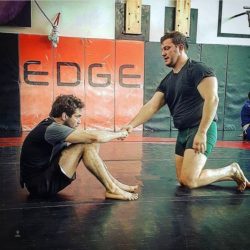 All photos courtesy of Sergio de Bari. You can follow along with his MMA and teaching journey at @matwizzard on Instagram.