Multiple World Champions train at NYC RTC in preparation for US Open and Beat The Streets Gala
By Pari Aryafar
New York City changing the Landscape of American Cadet, Junior and Pro-Level Wrestling
Hoboken, NJ – New York City's Regional Training Center has been established by Columbia University jointly hosted at the Andy F. Barth Wrestling Room on Columbia's campus and Edge School of Wrestling in Hoboken. Premier Olympians Helen Maroulis and Elena Pirozhkova are the Center's resident athletes and have already begun their training for the U.S. Open and World Team Trials. Maroulis is notable for the 2016 Rio Olympics, where she beat the heavily-favored Saori Yoshida to obtain her first Olympic gold medal. Pirozhkova is a tenured veteran of the sport, having attended the Olympics twice and placing in multiple World Championships. Both women are highly valued ambassadors to the sport, and are paving a way for the new generation of female athletes to pursue and succeed in wrestling.
Beyond the pro-level athletes that are training at the Center, also present are prestigious coaches Kendall Cross and Valentin Kalika. Cross is a two-time Olympian and gold medalist whose experience and expertise continues to guide some of the most elite senior level athletes in the sport. The "Master of Sports", Valentin Kalika's vast comprehension and analysis of wrestling helped Maroulis to win gold and Pirozhkova to place fifth in Rio, not to mention his own accomplishments such as winning a World Championship in Greco-Wrestling as recently as 2009.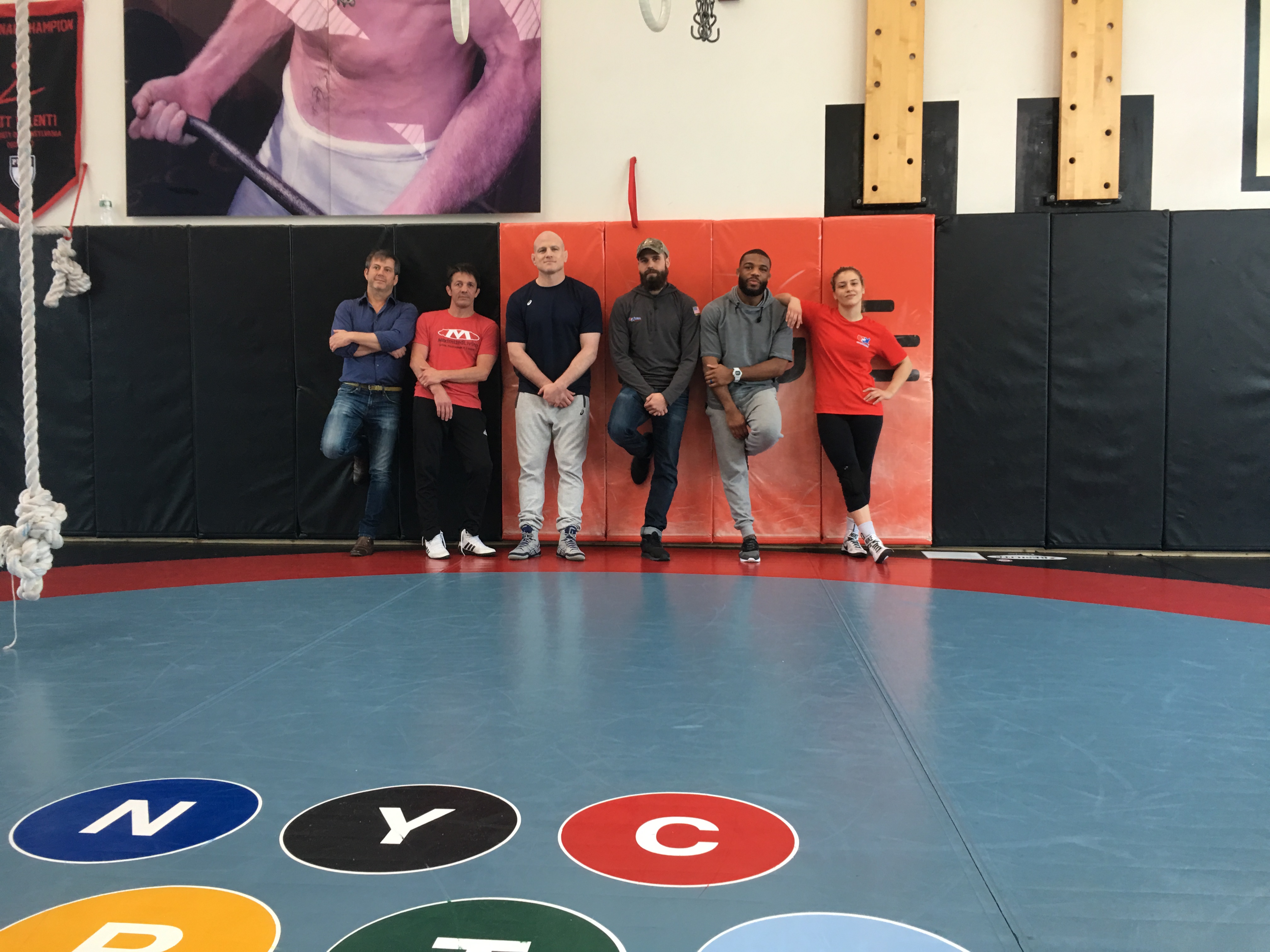 With such an outstanding cast of professionals working together, it should come to no surprise that American heros, four-time world and Olympic champion Jordan Burroughs and four time NCAA Champion and Olympic Champion Cael Sanderson have made appearances on the mats at the NYC RTC for an Asics sponsored event April 7th. In addition, four-time NCAA and Freestyle World Champion Logan Stieber is utilizing the camp to train for the Beat The Streets Gala, hosted in Times Square on May 17th. The Beat The Streets benefit supports the development of programming in underserved communities. In a release by Beat the Streets earlier today Steiber noted, "The Beat the Streets competition is one I look forward to every year."
NYC RTC and Columbia are bringing World Class opportunities to the tri-state region, their first public event was a wrestling clinic held by World Champion Maga Kurbanaliev this past Saturday in Hoboken, New Jersey, illustrating his creative wrestling techniques that took him to the top of the ranks within the sport. April 15th a public clinic will be hosted at Edge featuring Olympic Bronze Medalist Frank Chamizo Marquez.
All of this combined is setting an unbreakable foundation of training options for both cadets and junior level athletes aspiring to reach the world stage. It is the intent of NYC RTC to develop and maintain the highest quality of wrestlers within the Tri-State area, as well as set the pace for the new standard of American wrestling on the professional landscape of the sport.